---
AND ENDS WITH GOOD FRIENDS SHARING FRUIT PIE.
Now that's farm-to-table!
Some books just stay with you. Each Peach Pear Plum, aimed at the very young, first debuted in 1978, 25 years after I was the right age to have it read to me. But when I discovered it as a university student studying early childhood education, it became an instant favorite and has remained at the top of my list of classic picture books. If it isn't already, it just may become a favorite for you and your children too.

Each Peach Pear Plum by Janet and Allan Ahlberg (1978)
In this book with your little eye, take a look and play 'I spy'….
And so it begins. As this lovely story unfolds, older kids will be able to spy familiar characters hiding in the gorgeous watercolor illustrations, from Tom Thumb up a tree to Bo Peep on the hill to Baby Bunting, "safe and dry." Even young children who might not recognize all the fairytale and nursery rhyme characters will still be able to find them lurking in the cupboard, on the stairs or deep in the woods–and finally all together, "under the sun … everyone."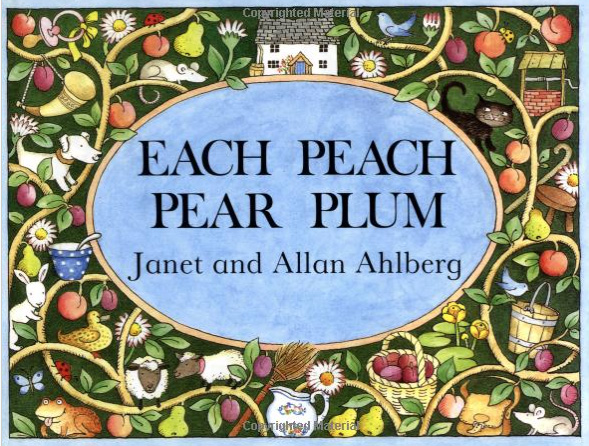 The rhymes are simple, memorable and fun for toddlers to chant and "read" or for older kids to chant and read to younger ones. (I even know of a seven-year-old boy who put the words to music and loves to sing the story to his younger brothers and sisters. Sibling love!)
Each Peach Pear Plum is a beautiful introduction for the very young to nursery rhymes, fairytales, and farm-to-table feasts with friends.  Ages 2-6.
RELATED ACTIVITY: Download and print on photo stock matte paper (or heavier) one copy of the Fruit Game Board and two copies of the Fruit Game Cards below. Cut out the cards. Have younger kids match one set of fruit cards to the fruits on the board. Older kids can place the eighteen fruit cards face down on the table in random order and play the "memory game": Each player turns over two cards each turn and tries to remember where the cards are situated in order to find matched sets. Each time a player finds a matched set, he or she gets an additional turn. The player with the most sets at the end of the game is the winner. It's a great way for even very young kids to become familiar with a variety of fruits and associate their shape and color with their names.
Yours fruitfully–
Barbara Jean the Story Queen
Fruit pie photo courtesy Benny Mazur, flickr, under license from creativecommons.org. Game board and card images courtesy Gerald G. and nicubunu through openclipart.com, under license from creative commons.org. Game board and game cards copyright Barbara Jean Hicks 2016. Book cover image: amazon.
---
ABOUT THE STORY QUEEN
First, a disclaimer: I'm not a doctor. I'm not a nutritionist. I'm not a chef. I'm not even a mom. What I know about healthy food and healthy eating I've learned by reading and doing, just like you.
What I am is a children's book author. A Story Queen! My area of expertise is FUN. In the last dozen years, I've written a number of entertaining, award-winning picture books–about monsters, cats, Disney princesses–and veggies, of all things. 
I'm big on imagination. Monsters Don't Eat Broccoli encourages kids (the way my dad encouraged my siblings and me) to think of broccoli as crunchy, munchy, fun-to-eat trees. Once Upon a Parsnip is a fairytale rematch between Little Red Riding Hood (a vegetarian) and the Big Bad Wolf (NOT a vegetarian). Scary fun!
On the surface, neither of my veggie books is really about healthy eating–they're just plain fun. But the fun is subversive: both books introduce and normalize the idea of eating healthy, fresh-from-the-garden vegetables. (Never underestimate the power of fun to get your kids to try something new!)
My goal in these pages is to find and share fun ways to introduce fresh fruits and vegetables to children and to normalize healthy foods and healthy eating in their experience. My means is to expose them–through you, their parents and caregivers–to food-friendly books, videos, downloadable and printable posters and coloring pages, hands-on activities and kid-friendly recipes. Anything that equates healthy food and FUN!
I'm here for you–to help you make healthy eating feel as natural to your children as breathing.
Because healthy food and healthy fun make healthy kids. And that's something all of us can get behind.
Sincerely,
Barbara Jean Hicks, a.k.a. "The Story Queen"
barbarajeanhicks.com
To purchase signed, personalized copies of my picture books, visit the "Books" page on my website.  To contact me about my well regarded young author presentations for schools, or for other enquiries, send an email from the "Contact" page at barbarajeanhicks.com. I look forward to hearing from you!